Why Key West Was Originally Named "Bone Island
The fierce Calusa Indians were said to leave the remains of their enemies on the beaches of Key West, thus creating Key West's first name, Cayo Hueso... Island of Bones.

"Your user friendly guide to Key West Florida"
Key West Sunset Celebration
| | |
| --- | --- |
| | Don't leave Key West with out experiencing the Key West Sunset Celebration at Mallory Square. Listen to live music and watch sail boats pass by as the sun dips into the sea. Every evening Mallory Square becomes an artist and food festival. If shopping, eating and watching the sunset is not enough entertainment, here you can watch the street performers or get your palm read. |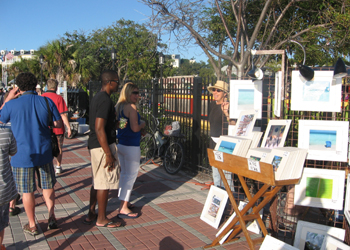 Key West Sunset Celebration FAQ's:
Question: What is the Key West Sunset Celebration?

Answer: It's Key West's premier nightly arts festival celebration.

Question: Where is the Sunset Celebration held?

Answer: The nightly celebration is held at Key West's Mallory Square, located at Key West's Historic Seaport.

Question: What can I expect to see at the nightly event.

Answer: You will see arts and crafts exhibitors, street performers, food carts, psychics, thousands of fellow visitors, and of course, the beutifull Sunset.

Question: Will I have to pay to visit the event?

Answer: No, it is free.
| | |
| --- | --- |
| | The Mallory Square performers offer a spectacle as vivid as the sunset itself. Visitors are likely to encounter a sword swallower, a fire-eater, and jugglers. Some evenings an Uncle Sam look-alike named Love 22 strolls along the pier giving away $22 bills. |
Editors Choice:
Sunset Celebration
The Sunset Celebration official site featuring events, photo gallery, links, and more.
Live Mallory Square Web Cam:
Click Here to View Mallory Square Live
Live image of Mallory Square. (may require download)
Best Mallory Square Photos:
Click Here to View Sunset photos
The Sunset Celebration page provides some quality sunset photos here.
Google photos
Plenty of photos found with a google search.
Mallory Square/Sunset Celebration Reviews:
Mallory Square Reviews
Check out around twenty reviews posted by various visitors to Mallory Square.