Why Key West Was Originally Named "Bone Island
The fierce Calusa Indians were said to leave the remains of their enemies on the beaches of Key West, thus creating Key West's first name, Cayo Hueso... Island of Bones.

"Your user friendly guide to Key West Florida"
Products Made Locally in Key West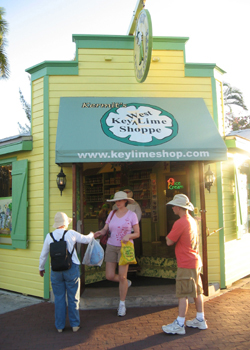 Key West Seafood
KeyWest seafood is dedicated to providing you with the freshest, premium seafood and other gourmet culinary delights.
Key West Aloe
Key West Aloe - The Best Thing Next To Your Skin! Aloe Skincare, Suncare, Cosmetics & Fragrance.
Fantasy Fest Store
The official Fantasy Fest Online Store has fabulous T-Shirts of past Fantasy Fests. Colorful designs and original artworks are dispayed.

Key West Cigar Factory
A complete range of ring sizes and lengths sold in boxes of 25. Or try our samplers to savor a range of the Original Key West Cigar Factory's offerings.
Marine Wildlife Gallery
THE Guy Harvey store, featuring quality casual clothing for men and women, all embroidered with the distinctive marine art of Guy Harvey. We also carry a complete line of T-shirts from infant to adult, home accessories, and fine art, from originals to limited edition prints.
Nellie and Joe's Key Lime Juice
Home of the original Key West Lime Juice and Nellie & Joe's Key West Traditions Marinades/Dressings.
Peppers of Key West
We are purveyors of Fine Fiery Foods -- which just means we sell Hot Sauces and other specialty items designed to excite your tastebuds and make you feel alive!
Scrubs of Key West
Scrubs of Key West is located in an adorable shop in the Historic District of downtown Key West. The business, created by a registered nurse and native of Key West.
Key West Winery
Features Key Lime and other Florida made award-winning fruit wines. Free wine tasting. Wine accessories, unique wine glasses, wine glass charms, key lime products, Florida jellies/honey. Convenient handled carrying boxes.
Baby's Coffee
We roast Baby's Coffee the old-fashioned way -- seven days a week -- so that your coffee is guaranteed fresh. The Southernmost Coffee Roaster in America, grinds and ships real Key West flavor anywhere in the continential USA
Baskets by Karem
From Tea and Coffee drinkers to Chocolate and Key Lime lovers, indulge in a basket of flavors to please any palate.
Conch Republic Seafood Company
T-Shirts, Hot Sauces, Order Your Favorite Souvenirs From Conch Republic Seafood Company. Fresh Seafood Delivered Right To your Door Coming Soon.
Dockside Cakes
Enjoy a Taste of the Florida Keys today! Dockside Cakes offers a unique line of tropical cakes that have been inspired by the lush surroundings of our home on the island of Key Largo as well as our proximity to the exotic Caribbean Islands.
Key West Fine Jewelers
Key West Fine Jewelers Inc. is a family owned and operated business. We are goldsmiths and professional craftsman in diamond setting and casting design
Kermit's Key West Key Lime Shoppe
Find key lime products such as key lime candy, key lime pie, beverages and key
lime lotion, key lime shampoo, hair and skin care.