Why Key West Was Originally Named "Bone Island
The fierce Calusa Indians were said to leave the remains of their enemies on the beaches of Key West, thus creating Key West's first name, Cayo Hueso... Island of Bones.

"Your user friendly guide to Key West Florida"
Key West Fishing Charters
| | |
| --- | --- |
| | The Atlantic Ocean is Key West's playground for deep sea fishing. Without knowing what will come up snagging the trolled baits, skimming along the crystal clear water offshore, is exciting to say the least. |
How long are the fishing trips?
A half day is 4 hours a 3/4 day is 6 hours a full day is 8 hours.
What time do the trips depart?
The departure time often can be changed to fit your schedule or the time of year. Yet most charter companies prefer to get out on the water around sunrise.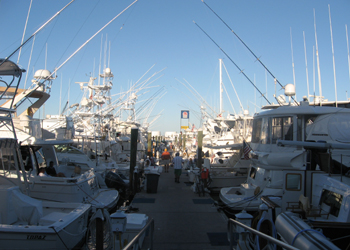 What kind of fish are commonly caught?
It depends on where you are fishing and at what time of year. If you are deep sea fishing then see this chart for a detailed fishing calendar provided by Mr. Z Charters. If you are fishing the flats than you will catch Tarpon, Permit, Bonefish, Barracudas, Snook, Redfish, Trout, Sharks, Mangrove Snapper, and Cobia.
What are the sea conditions?
The weather conditions in the Keys are generally very fair, yet weather is unpredictable and it always up to the captain if you will fish that day.
Do I rent the whole boat or do others go fishing with us?
Most charter companies pride themselves on making your chartered fishing trips private. Although the charter company will mix parties upon request. If your a less serious fisher and are just looking for a good time out on the water then Key West Party Boat Charters - Group Fishing Charters is what you are looking for.
What should I expect to pay for a charter?
Prices usually start at around $600 for a full/day 8:00 - 4:00$400 for a 3/4 Day 8:00 - 2:00 or$350 for a Half/day for your group.
Is it catch and release or can I keep the fish?
You can keep your fish depending on the season and the species. Some fish are illegal to keep.
Are food and drinks served aboard the charter?
Some companies offer food and drinks, others have drinks available.
Do I need a fishing license?
Yes, you do need a fishing license, the tour company can provide one for you given that you give them proper notice.
How soon should I make a reservation?
Fishing is a popular sport in Key West so it is advised that you make reservations as soon as possible before your trip.
Key West Fishing Charter Outfitters:
Mr. Z Sport fishing
Fish Key West waters aboard the Mr. Z, one of the Florida Keys premier sport fishing yachts, get fishing FAQ's photo gallery, fishing directory, and more.
Dream Catcher Charters
Get flat fishing info, back country fishing info, boat info, reservations, and more.
Looney Tunes Vessels
Day and night fishing trips, reef fishing, blue water fishing, rates, and more.
Best Fishing Photos:
Click Here to View Photos
Photos from Mr. Z's photo gallery.
Google Photos
Several Key West fishing photos found with a Google search.