Why Key West Was Originally Named "Bone Island
The fierce Calusa Indians were said to leave the remains of their enemies on the beaches of Key West, thus creating Key West's first name, Cayo Hueso... Island of Bones.

"Your user friendly guide to Key West Florida"
Key West Guided Jet Ski Tours and Jet Ski Rental
| | |
| --- | --- |
| | You'll experience Key West from the sea as you glide along with an experienced guide on your way through the Atlantic Ocean and into the Gulf of Mexico. Feel the warm salty air and azure tropical waters as you move past the mangroves and coconut trees that make up the perimeter of Key West. |
What are the highlights of embarking on a "Guided Key West Jet Ski Tour?"
Exploring secluded islands, swimming at a sandbar with crystal clear water and exploring the mangroves. Most guided tours offer a similar tour where you are guided around the island.
How Long are the tours?
Tours usually run around one and a half to three hours depending on the tour company.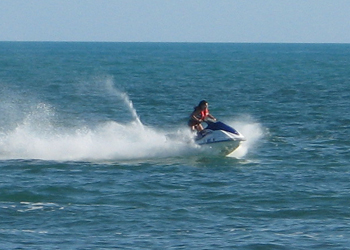 What should I expect to pay?
Guided tours run around $100.
What times do the tours start?
This varies from company to company but usually tours start around 10am. They run every two to three hours after that until late afternoon.
Can I rent a Jet Ski without a tour guide? If so what are the rates?
Yes; rates are about $80 an hour or $60 for a half hour.
What else do I need to know?
Florida law prohibits anyone under 18 from operating a wave runner and all drivers must present a picture I.D. and valid credit card for a damage deposit at check-in. Although the law requires that you must be 18 to operate a wave runner. Some Key West companies require that you are at least the age of 21 unless you are accompanied by a parent or legal gaurdian to rent a craft.
Tour Outfitters:
www.seearoomkeywest.com
Jet ski prices. tour info, photos, and more.
www.bestonkeywest.com
A Key West tour company featuring jet ski tour and rental info.
Key West Jet Ski Photos:
Click Here to View Photos
A few photos found with a Google search.