Why Key West Was Originally Named "Bone Island
The fierce Calusa Indians were said to leave the remains of their enemies on the beaches of Key West, thus creating Key West's first name, Cayo Hueso... Island of Bones.

"Your user friendly guide to Key West Florida"
Private Dinner Cruises in Key West Harbor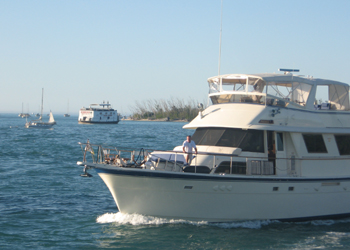 What to expect on a dinner cruise in Key West:
Expect to be sailed around Key West Harbor then anchoring for a delicious seafood dinner at sunset.
Frequently asked questions about dinner cruises in Key West:
How many hours are the dinner cruises?
Three to four hours.
What should I expect to pay?
Expect to pay around $100 per person. Ask about discounts if you have a party of three or more.
Is the cruise children friendly?
Yes; although it is a good idea to notify the captain when making your reservation.
Are the cruises private?
Yes.
Will I get sea sick?
Key West is surrounded by a reef six miles offshore that stop most waves; for this reason the seas tend to be quite calm. Except during hurricane season!
What is served for dinner?
Expect appetizers, drinks, seafood, and desert.
Key West Dinner Cruise Providers: