Why Key West Was Originally Named "Bone Island
The fierce Calusa Indians were said to leave the remains of their enemies on the beaches of Key West, thus creating Key West's first name, Cayo Hueso... Island of Bones.

"Your user friendly guide to Key West Florida"
A Taste of Key West Guided Walking Tour
| | |
| --- | --- |
| | Professional guides will point out the many sights, sounds and flavors that make Key West such a popular place to visit. |
What is the Taste of Key West guided walking tour?
A Taste of Key West is a guided walking tour featuring all that Key West is famous for: beautiful gardens, historic buildings, our enchanting seaport and of course, the food!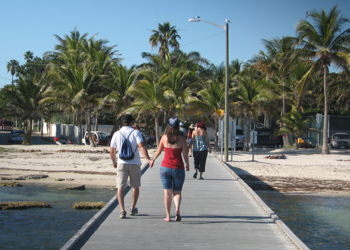 How long does the tour last?
It is two and a half hours.
What restaurants does the tour include?
Tour stops include: Kelly's Caribbean Bar, Grill & Brewery, Fogarty's, Kermit's Key West Lim Shoppe, Pepper's of Key West, and the famed Schooner Wharf Bar.
Is there food food included in the tour price?
Yes, tour participants receive samples of famous Key West cuisine including conch fritters, Mahi-Mahi fingers and Key Lime Pie. Additional food and drink specials will also be available.
How much does it cost?
Price: Adults $29, Children 12 and under $20, Children 5 and under FREE
The Taste of Key West:
Key West Promotions
This is a Key West promotions site featuring three guided walking tours available in Key West.